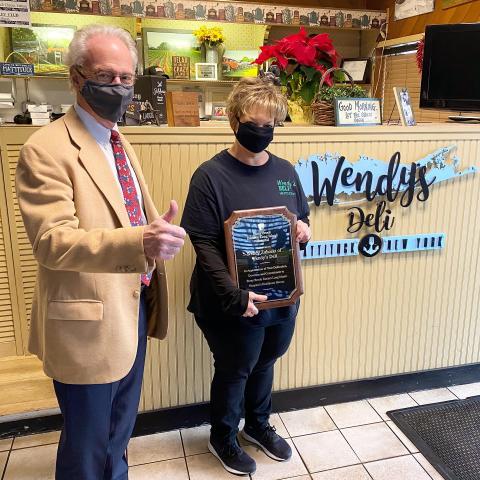 Paul J. Connor III, Chief Administrative Officer, SBELIH presents Wendy Zuhoski, owner of Wendy's Deli in Mattituck with a plaque in her honor
---
December 30, 2020
SBELIH Honors Wendy's Deli
Last week, Paul J. Connor III, Chief Administrative Officer of Stony Brook Eastern Long Island Hospital (SBELIH) presented Wendy Zuhoski— the owner of Wendy's Deli in Mattituck— with a plaque to honor all of her generous contributions to SBELIH in response to the COVID-19 pandemic.
When the COVID-19 pandemic hit, Ms. Zuhoski made sure her local hospital workers were taken care of with more than 150 meal donations. She always went out of her way to personally call the hospital directly to ensure that she delivered meals to every department.
In July of this year, she donated 450 customized "SBELIH Strong" t-shirts to the hospital's employees. She called prior to placing the order to ensure that every single hospital employee would have a t-shirt.
"Wendy is an incredible example of the individuals who make our community so special," says Paul Connor. "We can't thank her enough for all of her support and generosity."