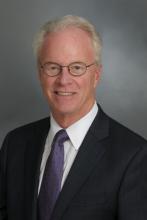 Stony Brook Eastern Long Island Hospital continues to evolve and provide new healthcare options on the North Fork and Shelter Island. Our integration with Stony Brook Medicine has allowed us to further our hospital's 117-year mission to better serve our community through ever-expanding services and foster talented new healthcare professionals. 
Over the last year, our staff has shown incredible courage, strength, professionalism and resilience in the face of any challenge. We strive to reassure and protect our patients, and most of all, save lives. 
With our unwavering commitment to expanding and improving healthcare on the North Fork and Shelter Island, we continue to work alongside Stony Brook University Hospital and Stony Brook Southampton Hospital to reiterate the message that all we do is all for you.
Paul J. Connor III
Chief Administrative Officer
Stony Brook Eastern Long Island Hospital