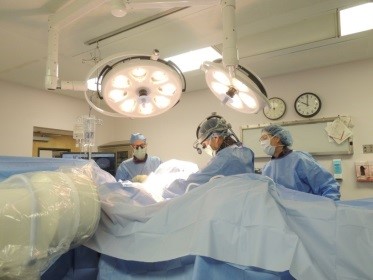 The team of healthcare professionals include: board certified specialists in anesthesiology, colorectal surgery, gastroenterology, general surgery, neurosurgery, ophthalmology, orthopedics, plastic and reconstructive surgery and urology in addition to certified operating room nurses, certified registered nurse anesthetists and operating room technicians.
A skilled nursing staff closely monitors you every step of the way -- from pre-surgical testing to recovery. Stony Brook Eastern Long Island Hospital (SBELIH) nurses take great pride in delivering an extra measure of "caring."
Due to less invasive procedures and quicker healing times, 85% of today's surgeries are performed in the Advanced Ambulatory Care Center. Ambulatory surgery patients are briefed prior to their scheduled surgery to ensure that they fully understand the procedure. Patients are closely monitored after the procedure, given written post-operative care instructions and receive a personal telephone call from a registered nurse to follow up on their recovery.
For more information about ambulatory surgery, call (631) 477-5350