2020 Laura Goodale Award Recipients:
Stony Brook Eastern Long Island Hospital Healthcare Heroes
The award typically honors the dedication and exemplary service of a very deserving healthcare employee at SBELIH who embodies the legacy of Laura Goodale, chosen by Nursing Administration. This year, Nursing Administration has chosen to honor all of the hospital's staff members for their selfless dedication to their essential roles during this health crisis. 
---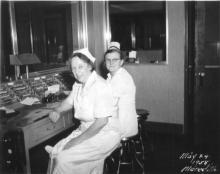 About the Laura Goodale Award
The Laura Goodale award was established in 1986 by lifelong supporter, Carl E. Vail, Sr. and the Southold-Greenport Rotary. The award is given in the spirit of Laura Goodale, a former ELIH nurse with a 42 year service record that was so extraordinary, it won her recognition as the 'Florence Nightingale' of the North Fork.
Laura Goodale began her career at Eastern Long Island Hospital in 1918 when the hospital was a three-story Victorian Mansion donated by the Wood Sisters. Although, Laura had no formal training as a nurse, Laura's service record of 42 years was so extraordinary that her memory still lives on in the hearts and minds of the community as both an "Unforgettable Nurse and Caregiver."
---
Past Laura Goodale Award Recipients
1986 Cathy Sepko, RN
1987 Stacia Rempe, RN
1988 Loretta M. Campbell, RN
1989 Jerome Swann
1990 Gisella Davey, RN
1991 Betty Rishe, RN
1992 Joan Rogers, ART
1993 Jeanne Richardson, RN
1994 Miyoko Park
1995 Marge Reeves
1996 Lorrinda Staron, RN
1997 Patricia Ryan-Epifano, RN
1998 Gerry Mellas
1999 Joanne Kujawski
2000 Linda Tabor
2001 Laura Rand, RN
2002 Jean Stepnowsky, RN

2003 Helene de Reeder, RN
2004 Pat Herrmann, RN
2005 Jeanne Rutkowski, RN
2006 Mary Ellen Stevens, RN
2007 Susan Kujawski, RN
2008 Deborah Conrardy, RN
2009 Janet Jackowski, LMSW,CASAC
2010 Linda Kraus, RN
2011 Carol Beasley, RN
2012 Cynthia Locrotondo, RN
2013 Jennifer Nemschick, RN
2014 John Fazio, CRNA
2015 Courtney Meringer
2016 Cindy Swiskey, RN
2017 Patti Damuck, RN
2018 Vera Bell, NA; Joan Kart, OPST; Lilile Monique, NA
2019 Helen Ryan, RN, TNCC