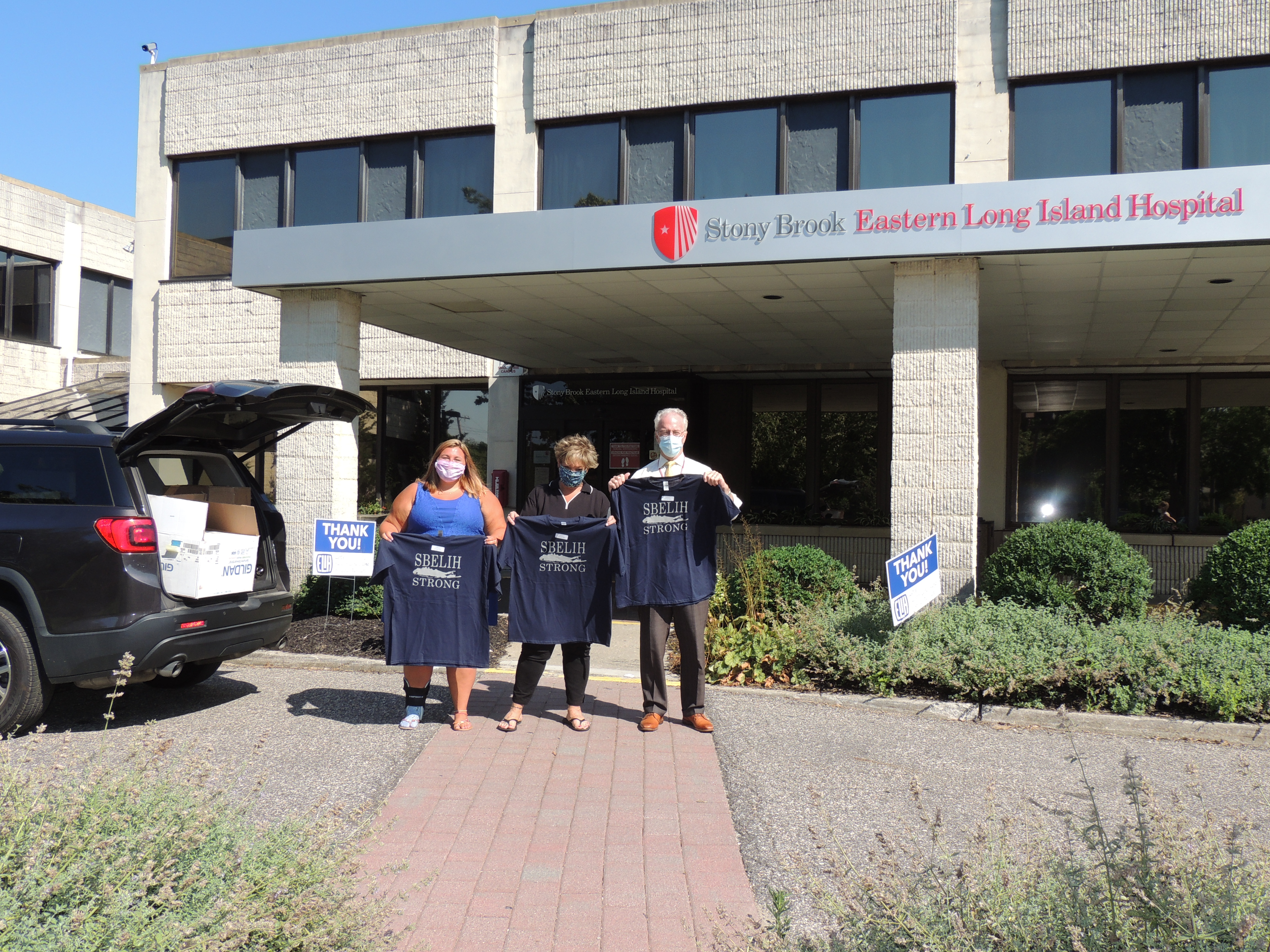 Left to right: Cassie Nine; Wendy Zuhoski, Owner, Wendy's Deli; Paul J. Connor III, Chief Administrative Officer, SBELIH 
---
August 3, 2020
Wendy's Deli Donates Custom "SBELIH Strong" T-Shirts to All Hospital Employees
On Thursday, July 29, Wendy Zuhoski of Wendy's Deli in Mattituck donated 450 customized "SBELIH Strong" t-shirts to Stony Brook Eastern Long Island Hospital's entire staff.
Earlier this year, a deli patron donated "NoFo Strong" t-shirts to Ms. Zuhoski and her staff. She posted a photo of the shirts on Facebook, and her followers' response was overwhelming. 
"Everyone needed to know where they could get these awesome shirts," Ms. Zuhoski said in a May 21 Facebook post. According to the same post, they sold 815 shirts in two days. They reordered and sold another 694 shirts, raising approximately $9,000. The deli also ordered and sold hundreds of "North Fork Strong" flags as part of the effort. With the proceeds, Ms. Zuhoski chose to show her local frontline workers even more gratitude by donating gift cards, and in SBELIH's case, custom t-shirts.
"From countless meals to these hundreds of t-shirts, our hospital is so grateful for Wendy's continued support," says Paul J. Connor III, Chief Administrative Officer, SBELIH.
The hospital has received a tremendous amount of generous donations—from flowers, to personal care items, to meals—since the beginning of the COVID-19 pandemic. During that time, Wendy's Deli made over 150 meal deliveries to frontline workers across the North Fork and beyond, including numerous deliveries to SBELIH. 
"I wish I could list all of the people and businesses that helped us through all of this," said Ms. Zuhoski in a June Facebook post. "Please know that it took an army to do all of this."
Ms. Zuhoski always went out of her way to personally call the hospital directly to ensure that she donated meals to every department. When several SBELIH nurses ordered lunch for another department from Wendy's Deli, Ms. Zuhoski simply wouldn't allow them to pay. 
Of all of her efforts, Ms. Zuhoski said "It was the most rewarding work I have ever done."
For more information about how you can support SBELIH and the Eastern Long Island Hospital Foundation, please call (631) 477-5164 or email elih_donations@stonybrookmedicine.edu.