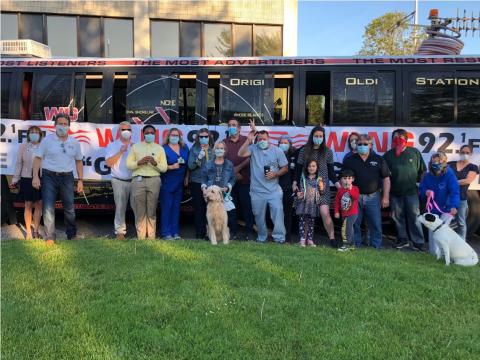 Photo Caption: Stony Brook Eastern Long Island Hospital staff, the WLNG team, and local officials pose for a photo in front of WLNG's Rolling Roadcaster Bus
---
May 28, 2020
WLNG Radio's Rolling Roadcaster Bus Stops by SBELIH for Dance Break
On Tuesday, May 26, radio station WLNG 92.1 FM stopped by Stony Brook Eastern Long Island Hospital (SBELIH) in their Rolling Roadcaster Bus for a dance break to show their appreciation for the hospital's healthcare heroes.
The WLNG bus sported a banner reading "WHERE THE 'G' STANDS FOR GRATITUDE" while playing Andrew Gold's "Thank You For Being A Friend" at 7pm. Gary Sapiane, radio personality and General Manager of WLNG emceed the event alongside Caretaker, Program Director, and Chief Meteorologist of WLNG, Bill Evans.
"You're heroes!" said New York State Assembly Member Anthony H. Palumbo, who also made an appearance to honor SBELIH's essential workers. "A round of applause for all of you; thank you for all your great work."
The WLNG team has been making their way across both forks to thank essential workers in response to COVID-19, including SBELIH's sister hospital, Stony Brook Southampton Hospital.
"Our community has shown the hospital such tremendous support in response to the pandemic," says Paul J. Connor III, Chief Administrative Officer, SBELIH. "Many thanks to WLNG for stopping by, playing some uplifting music, and honoring our staff for their continued hard work."