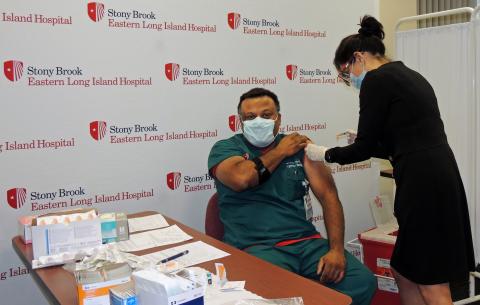 Lawrence R. Schiff, MD, FACEP, FAAEM, Chief, Emergency Department, SBELIH, prepares to receive the Pfizer-BioNTech vaccine, administered by Angela Avvento, RN, Employee Health Coordinator, Nursing Administration, SBELIH
---
December 22, 2020
Emergency Department Chief, sending a message, first in line to get vaccine at Stony Brook Eastern Long Island Hospital
At a quarter to one o'clock on the afternoon of Monday, December 21, 2020, Lawrence R. Schiff, MD, FACEP, FAAEM, rolled up his left sleeve while seated in a conference room at Stony Brook Eastern Long Island Hospital (SBELIH).
Dr. Schiff, Chief of the Emergency Department at SBELIH, became the first person in the hospital to receive the Pfizer-BioNTech vaccine. Ironically enough, Dr. Schiff evaluated and treated Suffolk County's very first COVID-19 positive patient at SBELIH back in March of this year, so it's most fitting that he was first in line to receive the vaccine.
While his colleagues looked on and a photographer captured the scene, Dr. Schiff sent a strong public message: the vaccine is safe.
"I'm extremely grateful to be part of the solution to this disease that has tragically impacted so many," said Dr. Schiff. "This vaccine allows me to continue safely caring for my patients, while better protecting my family, friends and community."
Vaccines will be administered according to criteria from the New York State Department of Health (DOH), which include a mix of physicians, residents, physician assistants, nurses, nurse practitioners and other hospital staff. The vaccine administration will be staggered in such a way as to ensure staff members have the ability to continue providing necessary patient care, and all hospital staff will be vaccinated as soon as possible.
As Stony Brook Medicine stated in a December 15 press release, this major milestone comes after the U.S. Food and Drug Administration issued the first emergency use authorization (EUA) for a vaccine for the prevention of COVID-19 in individuals 16 years of age and older. The emergency use authorization allows the Pfizer-BioNTech COVID-19 vaccine to be distributed in the U.S. The vaccine has been found to be more than 90 percent effective in preventing COVID-19 after two doses.
About Stony Brook Eastern Long Island Hospital:
With 70 beds, Stony Brook Eastern Long Island Hospital (SBELIH) is a full-service, community hospital committed to delivering excellence in patient care and meeting all the health needs of the North Fork and Shelter Island. A campus of Stony Brook University Hospital, SBELIH provides regional behavioral health programs serving the greater Suffolk County area. Centers of excellence include Medical-Surgical, Advanced Ambulatory Care, Behavioral Health, Emergency, Geriatric, Diagnostic Services, Physical Therapy and Gastrointestinal Services. To learn more, visit www.elih.stonybrookmedicine.edu.