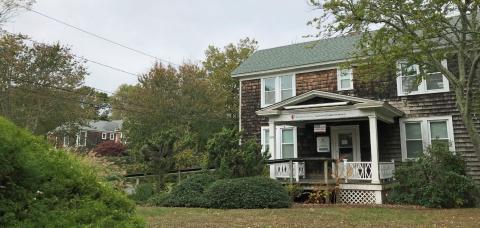 Quannacut Outpatient Services Off-site Location at 291 Hampton Road, Southampton, NY
---
November 9, 2020
Quannacut Outpatient Services Opens Off-Site Location in Southampton
Stony Brook Medicine Quannacut Outpatient Services has opened an off-site location at 291 Hampton Road, Southampton, NY to expand East End access to its outpatient addiction and psychiatry services.
In August, New York State awarded Stony Brook Eastern Long Island Hospital with $7,920 to expand telepractice addiction services. SBELIH was one of six providers on Long Island and one of 33 providers across New York State's Regional Economic Development Zones to receive this state support, which has been key to opening the new Southampton location.
"Now more than ever, there is an increased demand for addiction services across the board," says David Cohen, Director, Quannacut Outpatient Services. "More telepractice resources enable us to safely provide more care to more members of our community, without compromising patients' or staff members' health."
Intake assessments and psychiatry services are provided at the Riverhead location or via telehealth. The Southampton off-site is currently open Mondays 2-9pm, Tuesdays 9am-5pm, and Thursdays 1-9pm, with more hours to come.
Stony Brook Eastern Long Island Hospital is home to several of the most highly regarded behavioral health programs in Suffolk County; the hospital's Quannacut Inpatient Services provide inpatient rehabilitation and detoxification. Quannacut Outpatient Services—a newly renovated 14,000 square foot state-of-the-art behavioral health facility in Riverhead with off-site locations in Southampton and Greenport— provides outpatient addiction services that address patients' immediate and long-term substance use issues.
For more information about Quannacut Outpatient Services and SBELIH's Behavioral Health Services, visit elih.stonybrookmedicine.edu.