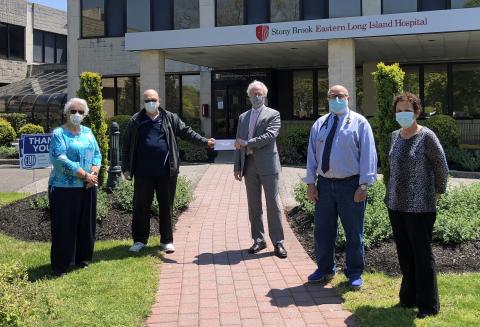 Caption:
Left to right: Kathleen Morris, President, Southold Rotary Club; Richard Wells, President, Greenport Rotary Club; Paul J. Connor III, Chief Administrative Officer, SBELIH; Lloyd Simon, MD, Medical Director & Director, Addiction Medicine, SBELIH; D. Patricia Pispisa, Senior Vice President, Patient Care Services and Chief Nursing Officer, SBELIH
---
May 19, 2020
Rotary Clubs of Greenport and Southold Honor All Stony Brook Eastern Long Island Hospital Employees
On Friday, May 15, Kathleen Morris, President of Southold Rotary Club and Richard Wells, President of Greenport Rotary Club personally delivered a $4,000 check to Stony Brook Eastern Long Island Hospital (SBELIH).
Both Clubs annually contribute a combined total of $3,000 to support the SBELIH Laura Goodale Award Dinner. The award typically honors the dedication and exemplary service of a very deserving healthcare employee at SBELIH who embodies the legacy of Laura Goodale, chosen by Nursing Administration.
Although this year's celebratory dinner has been cancelled in response to COVID-19, both Rotaries went above and beyond to donate an additional $500 each in honor of this year's Laura Goodale Award recipients: the entire staff of SBELIH.
"The Rotary Clubs of Southold and Greenport are heroes in their own rite, and they hold a special place in our hospital's history and our hearts," says Paul J. Connor III, Chief Administrative Officer, SBELIH. "We thank them for their service to our community, and for their continued generous support of the Laura Goodale Award."
The Laura Goodale Award was established in 1986 by lifelong supporter of the hospital, Carl E. Vail, Sr. in collaboration with the Rotary Clubs of Southold and Greenport. The award was named after Laura Goodale, a woman who began her 42 years of service at Eastern Long Island Hospital in 1918. To this day, her memory lives on in the hearts and minds of the community as an "unforgettable nurse and caregiver."
Nursing Administration has chosen to honor all of the hospital's staff members this year for their selfless dedication to their essential roles during this health crisis.
"This year, we honor all of our staff members with the Laura Goodale Award for their dedication and heroism in response to the COVID-19 pandemic," says D. Patricia Pispisa, Senior Vice President, Patient Care Services and Chief Nursing Officer, SBELIH.