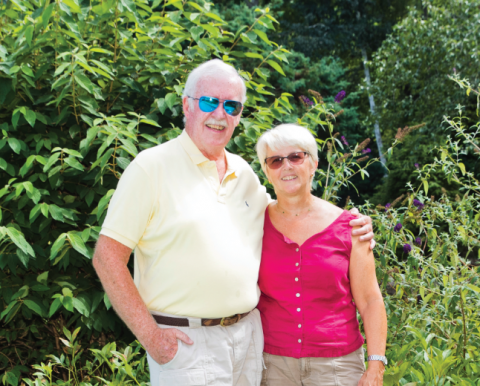 April 6, 2020
In light of the global COVID-19 pandemic, Eastern Long Island Hospital Foundation Board Members Peter and Erica Harold have donated a GeneXpert® diagnostic system, a vital piece of equipment to aid Stony Brook Eastern Long Island Hospital in the fight against coronavirus.
Thanks to the Harolds' long-standing generosity, SBELIH's laboratory is currently equipped with one GeneXpert® diagnostic system that delivers a rapid flu diagnosis in 30 minutes. Cepheid, the manufacturer of this equipment, has received FDA approval to test for COVID-19 on this same equipment with a 45-minute turnaround time for results.
SBELIH has been adapting to a "new normal" to continue safely caring for patients while protecting staff and the local community from the highly contagious virus. Information surrounding the virus is ever-evolving, with new updates from state and local governments every day. Hospitals needs to adapt just as quickly, predicting their need for supplies, staff, and additional resources to safely forge on.
No matter how well-prepared SBELIH is for this task, we can all use a little help from our friends during this unprecedented time. North Fork residents Peter and Erica Harold are long-time friends of SBELIH and the ELIH Foundation, and their contribution will serve as a powerful weapon in this war.
"Our entire hospital staff is working tirelessly to ensure the safety of their patients, their families, their community, and themselves," says Paul J. Connor III, Chief Administrative Officer. "This generous donation from Peter and Erica is going to play an enormous role in aiding our staff to win the fight against this virus."
The new GeneXpert® system has a higher test capacity that will allow us to perform six tests every 45 minutes as opposed to the current two-chamber equipment that performs two tests at once. Once the hospital acquires the new equipment, having the extra capacity and quick turnaround time will be significantly beneficial to SBELIH's medical staff, the community, and the Department of Health. It will also better prepare the hospital for future outbreaks, which is possible from what literature has indicated.
The hospital has received an overwhelming amount of support from the local community in response to the pandemic. No matter how prepared SBELIH be for this battle, the main source of support for the 70-bed hospital has and always will be the local community.
For more information about how you can support Stony Brook Eastern Long Island Hospital and the ELIH Foundation, please call the Foundation Office at (631) 477-5164 or email elih_donations@stonybrookmedicine.edu.