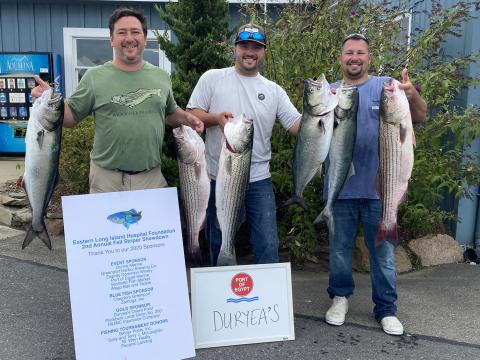 Team Fin-Attic (Duryea's): Striped Bass 1st and 3rd Place; Bluefish 1st Place
---
September 29, 2020
2nd Annual Fishing Tournament Reels in Nearly $45,000 for SBELIH
On Saturday, September 26, 2020, the Eastern Long Island Hospital Foundation held its 2nd Annual Fall Striper Showdown Fishing Tournament at Port of Egypt Marine, which raised nearly $45,000 to benefit Stony Brook Eastern Long Island Hospital (SBELIH). 23 boats participated in this year's tournament.
Our generous business community came onboard as Event Sponsors: Port of Egypt Marine, Greenport Harbor Brewing Co., Mystic Oysters, Southold Fish Market and Osprey's Dominion Vineyard. Blue Fish Sponsors included Claudio's Greenport and Zemoga, while Duryea's Orient Point, the Plumbers Local Union No. 200, and MLMIC Insurance Company took Gold Sponsorships. Generous donors included Binder Pools, Inc., Sally and Terry J. McLaughlin, M. Wein Realty, and Peconic Landing.
Coronavirus has had a profound impact on fundraising and special events this year, and this tournament was no exception. Thanks to plenty of foresight, thoughtful planning, and creativity on the part of the tournament planning committee, led by Dave and Maryellen Basile, the event was both safe and successful.
In lieu of a Captain's Party, captains were invited to a Captain's Check In & VIP Package Pick-up on Friday, September 25 before the tournament officially began off at 8pm. Anglers fished and weighed their best catches until the 5pm weigh-in deadline on Saturday, September 26. Festivities culminated at the Striper Bash & Bake post weigh-in.
Bash attendees enjoyed lobster bakes from Southold Fish Market, Greenport Harbor Brewing Co. beer, Osprey's Dominion wine, and live music by Points East. Anglers and guests alike were invited to bring their masks and enjoy their meal under the socially-distanced tent at Port of Egypt, or they were welcome to enjoy it from home. Tournament winners were announced after dinner, and the announcement was streamed live via Zoom for those at home. Awards included two stunning trophies, six cash prizes, along with all-important bragging rights. The 1st Place Striped Bass and the 1st Place Bluefish were both caught by Team Fin-Attic (Duryea's).
The Fall Striper Showdown Fishing Tournament is the brainchild of Dave Basile of Shelter Island, who has worked closely with the ELIH Foundation since the event's inception to secure the tournament's place among the ELIH Foundation's annual fundraisers. In June of 2020, Dave joined the ELIH Foundation Board of Directors.
"Congratulations to our winning anglers, and many thanks to everyone who came together to support the 2020 Striper Showdown," says Dave Basile. "We couldn't have done it without you, and we look forward to seeing you again next year."
"We are incredibly grateful for Dave's dedication to making this event an annual success," says Paul J. Connor, Chief Administrative Officer at SBELIH. "The generosity exhibited by the event organizers, sponsors, and participants is a shining example of the community support on which our hospital was built."
To learn more about the Fishing Tournament, the ELIH Foundation, or Stony Brook Eastern Long Island Hospital, visit elih.stonybrookmedicine.edu.