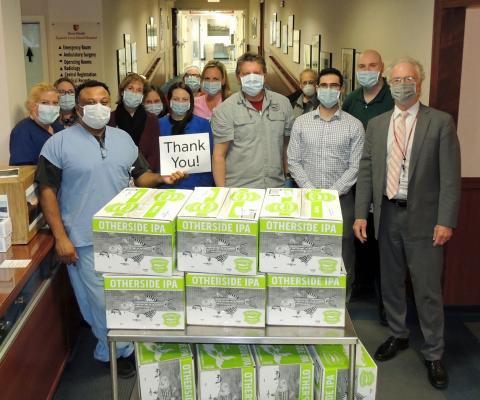 April 10, 2020
The North Fork community has gone above and beyond to aid its essential workforce in response to the global COVID-19 pandemic. On Wednesday, April 8, Richard Vandenburgh, co-founder of Greenport Harbor Brewing Company and President of the Village of Greenport Business Improvement District (BID) personally delivered 500 face shields to Stony Brook Eastern Long Island Hospital (SBELIH).
Mr. Vandenburgh and the brewery's co-founder John Leigey have teamed up with Jamie, Bob, and William Mills of William J. Mills & Co. Sailmakers to develop and produce face shields for local hospitals, first responders, and community outreach volunteers. It all started when Mr. Vandenburgh asked himself, "what can we do locally to help," a thought echoed by many North Fork business owners and community members.
"Then we bumped into Jamie Mills and Bobby Mills and found out they were well on their way to creating a [face shield] prototype, so it was a perfect kind of union," he says. "[William J. Mills & Co.] has the ability to crank out all the pieces in their shop, and we have the space to assemble."
In collaboration with Mark Miller, former owner of Miller Environmental and Bob Gammon, co-owner of Woodside Orchards in Jamesport and co-lead advisor for the Southold/Greenport robotics team, the businesses started a GoFundMe, hoping the community would step up and contribute to this worthy cause.
"We raised $28,000 in three days," says Mr. Vandenburgh. "We've raised what we anticipated we would need to fund approximately 5,000 units; any excess funds will be turned over to the hospital to purchase equipment, beds, or whatever is needed."
Greenport Harbor Brewing Co. is a long-time friend of SBELIH and the Eastern Long Island Hospital Foundation. Mr. Vandenburgh's mother-in-law was a nurse at the hospital for many years, and Mrs. Vandenburgh is a "Sterling Baby," meaning she was born at SBELIH while the hospital still housed a maternity ward. Mr. Vandenburgh and the brewery's co-founder John Leigey generously donate beer to the Foundation's Annual Summer Gala. William J. Mills & Co. generously supports the ELIH Foundation Gala and Annual Golf Classic; Bob, Jamie, and William Mills were the Foundation's 2012 Golf Classic Honorees.
"With each new call to action in response to the COVID-19 crisis, our community has answered," says Paul J. Connor, Chief Administrative Officer at SBELIH. "We are so grateful to the Brewery, the Mills family, Mr. Miller, Mr. Gammon, the volunteers, and the donors who have all contributed to this extraordinary display of teamwork and philanthropy."
owners of both businesses, brewery staff, and volunteers assembled approximately 700 shields in their first three hour shift on Wednesday afternoon. They hope to assemble approximately 1,400 shields daily, as long as they have sufficient volunteer power.
Anyone interested in volunteering may email Mr. Vandenburgh directly at rich@greenportbrew.com or call (631) 513-9019.
For more information about how you can aid SBELIH and the Eastern Long Island Hospital Foundation in the fight against COVID-19, please call (631) 477-5164 or email elih_donations@stonybrookmedicine.edu.