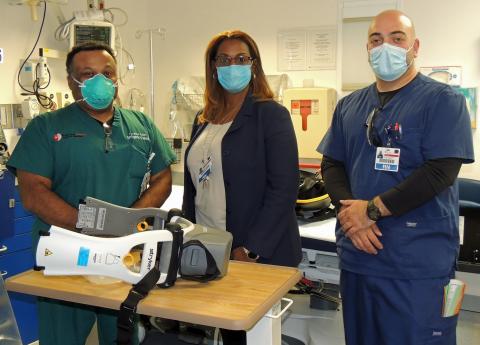 Left to right: Lawrence R. Schiff, MD, FACEP, FAAEM, Chief, Emergency Department, SBELIH; Sheryll Allbright, MHA, BSN, RN, Vice President, Clinical Services, SBELIH; Shota Mamukashvili, RN, Emergency Room Manager, SBELIH stand behind the hospital's new Stryker Lucas 3 Chest Compression System
---
November 30, 2020
High-Tech Emergency Care, Close to Home
Stony Brook Eastern Long Island Hospital (SBELIH) has acquired new, state-of-the-art emergency care equipment, including a chest compression system, monitor/defibrillator and stretchers.
These purchases were made possible thanks to the ELIH Foundation. Funds for the equipment were donated by a number of generous individuals and organizations, including the ELIH Auxiliary and the Brennan Family Foundation. Proceeds from "Rock Your Heart Out" and Rocktoberfest— fundraising events that were formed by Emergency Department staff in collaboration with the ELIH Foundation—also contributed to covering the cost.
The new equipment is housed in SBELIH's Emergency Department, where nurses like SBELIH's Emergency Room Manager, Shota Mamukashvili, RN, BSN are using it to save lives.
"Time is life, and this equipment will save invaluable time for our patients," says Mamukashvili, a Shelter Island native.
Whereas life-saving chest compression typically requires the continuous man-power of several individuals, the new chest compression system has a battery life of over an hour to provide continuous chest compression, which improves CPR quality and virtually eliminates caregiver fatigue. The new monitor/defibrillator is easy to use, has more monitoring capabilities than any other monitor/defibrillator, and supports improved resuscitation results with proven CPR guidance and post-event review. The new stretchers are equipped with x-ray capability and an integrated scale to reduce unnecessary patient transfers. Overall, the quality of this equipment is more compatible with that of Stony Brook Medicine.
"Compatibility really streamlines the patient care," says Mamukashvili, who has previously worked in Stony Brook University Hospital's Emergency Room. "Every second counts—especially with stroke patients or cardiac arrest patients—so we are constantly striving to save critical minutes and seconds however and wherever we can."
According to Mamukashvili, a heart attack patient recently came through SBELIH's ER— they went from SBELIH ER to the Cardiac Catheterization Laboratory at SBUH within an hour's time. For 95% of their patients, SBELIH's ER already has one of the shortest wait times in all of Suffolk County. This new equipment will help staff save more time, and in turn, save more lives.
"We are tremendously grateful to those who have supported our efforts to bring this technology to the North Fork," says Lawrence R. Schiff, MD, FACEP, FAAEM, Chief of the Emergency Department at SBELIH. "This new equipment will directly impact our patients in an extremely positive way– and we couldn't be more thankful."
For more information about the ELIH Foundation and SBELIH's Emergency Department, visit elih.stonybrookmedicine.edu.