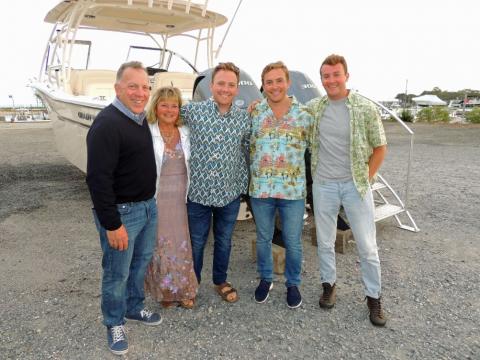 Left to right: David Basile, Maryellen Basile, Matthew Basile, Connor Jackson, and Matthew Fox at the ELIH Foundation's First Annual Fall Striper Showdown Fishing Tournament
---
June 8, 2020
ELIH Foundation Board of Directors Welcomes David C. Basile
The Eastern Long Island Hospital (ELIH) Foundation has welcomed David C. Basile to the Board of Directors.
Mr. Basile is the founder and Principal of RD Global Research, LLC, a company specializing in development of systematic investment strategies and portfolio assembly. He is a graduate of Queens College with a bachelor's degree in Accounting and Economics.
The Paradise Point Club— of which Mr. Basile is a member—played an instrumental role in bringing the ELIH Foundation's First Annual Fall Striper Showdown Fishing Tournament to life in September of 2019. The inaugural event raised nearly $45,000 to benefit Stony Brook Eastern Long Island Hospital.
"We're proud to welcome David to our Board of Directors," says Paul J. Romanelli, Chairman of the ELIH Foundation Board. "His experience and background in analytics, finance, systems development and entrepreneurship will be a significant asset to the Foundation."
A resident of Shelter Island, Mr. Basile and his wife Maryellen are active members of the North Fork and Shelter Island communities; Mrs. Basile currently sits on the ELIH Foundation's Gala and Fishing Tournament committees. Mr. Basile is also a member of the Easton Vance Floating Rate Fund Board, the Tuthill Drive Neighbors Inc Board and the Sailfish Point Club of Stuart, FL.
For more information about the ELIH Foundation, visit elih.stonybrookmedicine.edu/elih_foundation or call the ELIH Foundation Office at (631) 477-5164.