Stony Brook Eastern Long Island Hospital (SBELIH) is home to several of the most highly regarded behavioral health programs in Suffolk County. Behavioral Health Services provide treatment for substance use and/or mental health disorders from a medical and psycho-therapeutic approach. Often the treatment specializes in co-occurring disorders. Treatment is provided by an interdisciplinary team of psychiatric nurses, clinical social workers, recreation therapists and board certified physicians.
Services include inpatient and outpatient Addiction Services under the Quannacut program and inpatient Psychiatry for Adults 18+. The philosophy of "Quannacut" (the Native American word for "hope'' or "rainbow") addresses addiction/chemical dependency as a treatable disease. SBELIH's Behavioral Health Center is a place where our compassionate professionals work to maintain a nurturing environment that enables patients to stabilize, recover, and transition back into the community. 
All inpatient services are provided at Stony Brook Eastern Long Island Hospital, 201 Manor Place, Greenport, NY 11944. 
Note: There is no banking availability. Cash all benefit and personal checks prior to arrival. Cash or valuables may be locked in the hospital safe. 
Inpatient Psychiatry│631.477.5265 / 477.477.5268
Acute psychiatric services for adult inpatient care in a 23-bed safe, nurturing therapeutic environment, certified by the New York State Department of Health, the New York State Office for Mental Health (OMH) and The Joint Commission.
The acute care unit provides a healing and therapeutic environment for the stabilization of the mentally ill patient. Treatment by an interdisciplinary team of psychiatric nurses, clinical social workers, recreation therapists and board certified psychiatrists reinforce the establishment of a supportive discharge plan. Assessment for admission is sometimes initiated as a transfer or directly by mental health practitioners.
Inpatient Quannacut Addiction Intake/Rehab/Detox
Inpatient Quannacut Addiction Services are fully accredited hospital-based detoxification and rehabilitation programs licensed by the NY State Department of Health and the New York State Office of Alcoholism and Substance Abuse Services (OASAS) and The Joint Commission. Inpatient services include group and individual therapy, acupuncture, individualized treatment, self-help meetings, recreation/creative arts therapy, medical services, psychiatric services, discharge planning, addiction education, and smoking cessation.
Quannacut Intake│631.477.8877
Intake assessments completed Monday-Friday, 7am-7pm
Quannacut Rehabilitation│631.477.5325
20-Bed Quannacut Rehabilitation Unit
Quannacut Rehab has a sub-acute residential unit that builds sober living skills to aid patients in sustaining recovery upon return to their communities.
Quannacut Detoxification│631.477.5234
10-Bed Quannacut Detoxification Unit
Detoxification assessments available 24 hours per day, 7 days per week through the Emergency Department
Provides an acute care medical setting that provides detoxification from those substances, which require medical management. Education regarding treatment and the effects of chemical dependency are offered. Patients are assisted with a referral to the next level of care.
---
Quannacut Outpatient Services│631.369.8966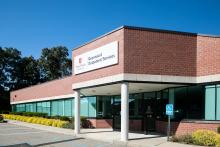 905 East Main Street, Riverhead, NY 11901
Quannacut Outpatient Services is a state-of-the-art behavioral health facility at the forefront of modern treatment for substance use disorders across Eastern Long Island. Learn more
---
 

Lloyd Simon, MD
Director of Addiction Services
Diplomate, American Board of Internal Medicine
Diplomate, American Society of Addiction Medicine
Southold, (631) 765-4150

 

 


Jarid Pachter, DO
Medical Director, Quannacut Outpatient Services
Diplomate, American Osteopathic Association, Family Medicine
Diplomate, American Society of Addiction Medicine
Southold, (631) 734-8742
 
---

Community Helplines
Support Groups
Suicide Prevention
Alcoholics Anonymous – Suffolk County Helpline, (631) 669-1124
Narcotics Anonymous – Suffolk County, (631) 689-6262
Families Anonymous – Eastern Suffolk County, (631) 477-6821
Suicide Prevention/Response of Suffolk County – 24/7 Crisis Intervention Confidential Hotline, (631) 751-7500
Mobile Crisis Unit Suffolk County – Intervention for psychiatric/emotional disorders, 7 days a week between the hours of 10 am and 11 pm, (631) 952-3333
NYS – HOPELINE – 1-877-8-HOPENY
VIBES – (631) 362-3730
The Retreat – (631) 329-2200