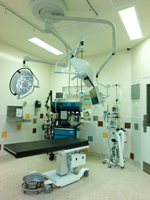 As a full service Hospital, ELIH must maintain surgical expertise and prowess in a contemporary OR environment.
 
While ELIH is well positioned with its new laparoscopic instrumentation, urologic equipment, phacoemulsifier and state-of-the-art instrument reprocessing system, the structure of today's ORs  is drastically different then just 2 years ago.
 
Equipment must now be hung from ceiling booms.  Gone are the days of rolling carts.
 
The three-suite Operating Room at ELIH is about to undergo expansion and renovation to accommodate these new demands.
Surgical services include:
Orthopedics
Plastic and Reconstructive
Colorectal Surgery
Spine and Neurosurgery
Urologic
Ophthalmologic
Vascular
Gastrointestinal
General Surgery.