Report to Our Community 2019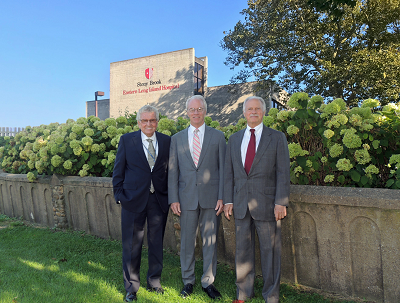 This year was a historic one for our 70-bed hospital in Greenport. Now that "ELIH" has officially become "SBELIH," our patients have access to the most advanced healthcare, now on the North Fork.
SBELIH has partnered with Stony Brook University Hospital (SBUH) and Stony Brook Southampton Hospital (SBSH) to further improve healthcare access and quality for East End residents. As part of the Stony Brook Medicine healthcare system, the three hospitals match patients with the right type of care at the right facility and work together to address healthcare gaps for East End residents, including neurology, gynecology, pulmonology, hematology/oncology and orthopedic services.
Joining Stony Brook Medicine brings together academic and community medicine to meet our current and evolving healthcare needs. That's why SBELIH has made significant investments in:
Mastery in General Surgery Fellowship Program – Access to world-class surgery continues and is expanding. SBELIH, in collaboration with Stony Brook Medicine, is enhancing your local Surgical Center of Excellence with this program. After eight months of general surgery experience at Stony Brook Medicine, fellows gain four months of community-based hospital experience at the SBELIH campus. In addition, Melany Hughes, MD, MPH, General Surgeon, has joined our SBELIH full-time staff.
Telemedicine – SBELIH has officially launched Teleneurology, the first module in its Telemedicine program, providing seamless direct access to Stony Brook Medicine neurologists through Telemedicine technology. Whether an SBELIH patient is in the Emergency Department or admitted to the Medical floor, our attending physician can arrange a specialist consultation immediately and in real time.
Psychiatry Residency Program – Stony Brook Eastern Long Island Hospital, in collaboration with Stony Brook Medicine, is now home to a psychiatric residency program. Together, SBELIH and Stony Brook University Hospital provide the leading behavioral health programs for Long Island. SBELIH is a clinical campus and training site, increasing the number of physicians, specialists, allied health professionals and nurses on the East End of Long Island.
Hospitalists - At SBELIH, inpatients are under the care of world-renowned Board Certified
hospitalists - physicians who specialize in inpatient medicine and taking care of hospitalized
patients in place of a primary care provider.
There is no doubt that joining SBM has resulted in a number of significant changes for our staff and patients. However, some things will remain the same as we continue our historic 115-year mission serving the communities of the North Fork and Shelter Island now as SBELIH. Our ongoing initiatives to improve the health and wellness of our local community, such as regular skin cancer screenings and educational programming, will remain consistent. SBELIH is one of two hospitals on Long Island providing skin cancer screenings to all inpatients through the Mollie Biggane Melanoma Foundation.
Additionally, our hospital's main source of support has been and always will be the community. This has not and will not change moving forward as SBELIH. All monies raised by the ELIH Foundation's fundraising efforts will stay here in Greenport to benefit your community hospital, as they have since 1905.
Thomas E. Murray, Jr.
Chairman, ELIH Association;
Chairman, Joint Advisory Committee
Paul J. Connor III
Chief Administrative Officer
Anthony E. Mitarotondo, Jr., MD
Chair, ELI Leadership Coordinating Council
---
Click HERE to view full report and calendar