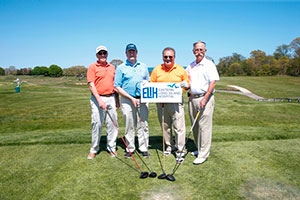 The ELIH Golf Classic will be played as a scramble. A golf scramble is a format for golf tournaments where two or more players form a team to play, with the rules emphasizing fun without the pressure of players keeping individual scores. Each player hits a tee shot on each hole, but everyone plays from the spot of the best shot, subject to certain criteria. Rules for playing in a scramble are informal, with tournament organizers modifying basic rules as they wish. For example, organizers may require a group to select each player's tee shot at least twice. The scramble format is not covered under the official Rules of Golf.
How to play
Each member of the team tees off from the starting hole. In a scramble tournament, the team's opening hole could be any hole on an 18-hole course, depending on the assignment by tournament organizers. Players can tee off with the golf club of their choosing—not necessarily a driver.
The best tee shot is chosen through general consensus of the scramble team. The group can decide the best tee shot based on any criteria they choose. Usually, the best shot is the longest drive that lands in the fairway, though the team may choose a long tee shot that landed off the fairway in the rough if there is a decent lie.
The spot of the best tee shot is marked with a golf tee or ball marker. Players must pick up their golf balls and hit from within one club length of the newly marked spot.
Team members continue selecting the best shot until one player hits the ball in the hole. The team score is the total of the best shots.
Tips
If you are selecting a scramble team, try to include at least one player who can hit good tee shots with the driver. Good tee shots will put your team in a good position for its second shot. Having a player who has good short-game skills also helps, especially putting.